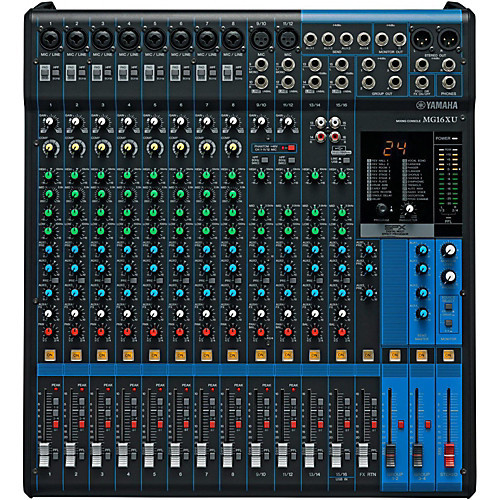 Yamaha Mg16xu
Product Description
The Yamaha Mg16xu is capable of connecting 10 Mic inputs with 48V phantom power and HPF per channel. They are derived from high quality of raw material using advance technologies. These systems have 16 line inputs 8 mono and 4 stereo. Apart from this they have preamps, EQ. further they can make every sound establishes the MGP as premium mixing console. These systems are tested by our testing team according to the industrial parameters. They are easily controlled and are available at affordable price.
Features :
Outstanding microphone preamps
Switchable Phantom Power & PAD Switch
1-knob Compressors
EQ and High-pass Filters
AUX / Effect Sends / Group
LED level metering
Built-in SPX Digital Effects
Metal Chassis
USB
Studio quiet and barroom loud. Order today.
SPECIFICATIONS
MG16XU 16-Channel Mixer
On-board processors : SPX algorithm: 24 programs, PARAMETER control:1, FOOT SW:1 (FX RTN CH on/off)
Phantom power: +48 V
Digital I/O: USB Audio Class 2.0 compliant, Max 192 kHz, 24-bit
Input Channels: 8 Mono[MIC/LINE], 2 Mono/Stereo[MIC/LINE], stereo[LINE]: 2
Output Channels: STEREO OUT: 2
MONITOR OUT: 1
PHONES: 1
AUX SEND: 4
GROUP OUT: 4
Bus: Stereo: 1, GROUP, AUX: 4
Input Channel Function
PAD: 26 dB (Mono)
HPF: 80 Hz, 12 dB/oct (Mono)
COMP: 1-knob compressor Threshold: +22 dBu to -8 dBu, Ratio: 1:1 to 4:1, Output level: 0 dB to 7 dB, Attack time: approx. 25 msec, Release time: approx. 300 msec
EQ HIGH: Gain: +15 dB/-15 dB, Frequency: 10 kHz shelving
EQ MID: Gain: +15 dB/-15 dB, Frequency: 2.5kHz peaking
EQ LOW: Gain: +15 dB/-15 dB, Frequency: 100 Hz shelving
PEAK LED: LED turns on when post EQ signal reaches 3 dB below clipping
Level Meter: 2 x 12 -segment LED meter [PEAK, +10, +6, +3, 0, -3, -6, -10, -15, -20, -25, -30 dB]
Contact Us
Shop No. 1690/12, Sunder Bhawan, Bhagirath Palace, Chandni Chowk, Delhi, Delhi, 110006, India
Phone :91-11-23863509